Discover Young Rembrandts
Where Art Education Meets Excellence
In addition to the academic benefits, involvement in the arts can also have positive effects on a child's emotional well-being. The sense of accomplishment that comes with completing a piece of art can boost a child's self-esteem and confidence.
The Young Rembrandts method not only teaches children how to draw, but also focuses on building important life skills. Through our classes, students learn to follow directions, work independently, and develop problem-solving skills. By providing a structured environment for artistic expression, we give children the tools they need to succeed both academically and emotionally.
Young Rembrandts Develops the Whole Brain
We Do More than Just Draw
Our drawing classes offer child-friendly and relevant subject matter to spark interest and increase knowledge retention. Through the process of weekly instruction Young Rembrandts students are exposed to a wide variety of subject matter, artistic concepts, art history and mastery of their materials.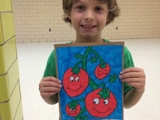 Testimonials
What Parents Are Saying
Young Rembrandts has been an excellent experience! We love the classes! My kids enjoy the time and have improved their art skills significantly since beginning the sessions. We tell everyone we know about these classes! I have noticed my daughter's attention to detail and steadiness of hand improve. I imagine Young Rembrandts helped this!
-Esther, Parent
I would like to give more than 5 stars!! My kids have been in the program for a few years and LOVE IT!! Helps concentration, imagination, printing skills, uses different parts of the brain etc etc I could never say enough!!
-Nikky, Parent
My son will be starting his first session on Monday, March 31. He's not really into sports like his brother, but loves to draw & build with his Legos. So, I am very excited that you decided to bring this program to AES. It is wonderful for you to bring other alternatives into our community for those children that have other interests besides sports!! Can't wait to see their creative work & hear what they think!! I give it 5 stars just for the thought!
-La'Queta, Parent
My son loves this class. He looks forward to it every week. It's nice to have something extra for a kindergartener. Extracurricular activities aren't just for the big kids. We will be doing the next session for sure. Thank you for enhancing our child's education.
-Jason, Parent
Every time my daughter went home with her drawings i was really amazed on her creations! Thanks YR for introducing to her the techniques and styles of art!
-Wena, Parent